WE BRING OUR VALUES TO LIFE!
In our daily work, it is important for us to think ahead and holistically, while remaining practical and flexible.
Through teamwork, varied projects and supportive further education and training, it is possible for us to develop continuously and sustainably. This enables us to act and decide responsibly. Our motto is not "faster, higher, further", but rather "healthier, more sustainable, more authentic".
People are people in the centre of our attention. We trust and support each other – whether with freedom to unfold one' s potential or with a helping hand. In doing so, we always ensure that we treat each other with respect.
We are movement24.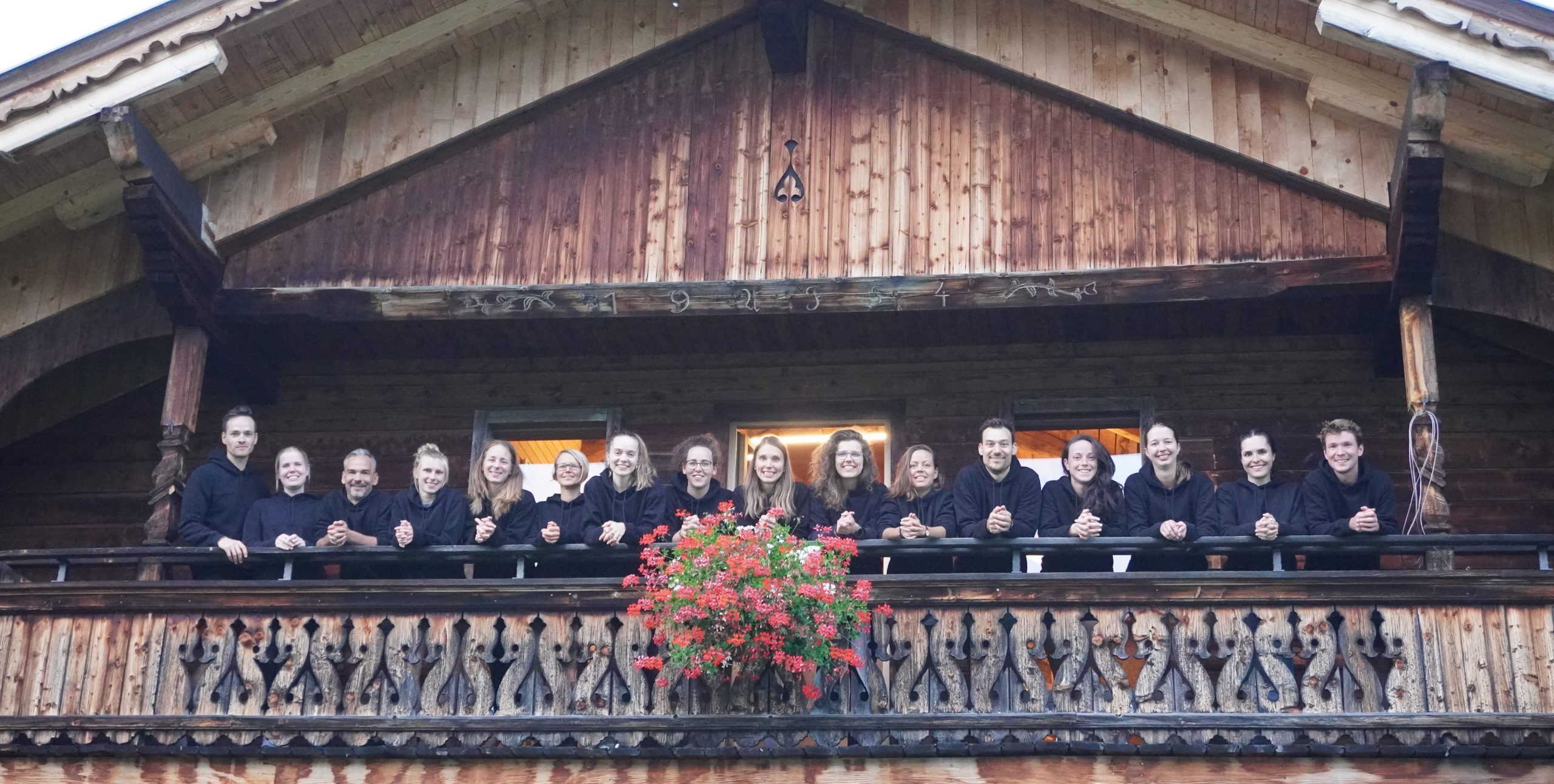 We take time for the team and for rethinking.
In the mountains, we feel at home. That's why we all get together once a year in a mountain cabin as part of our " Hüttentage" and take time for our further development, our perspectives and plans.
At the end of the month it's TEAM TIME and we take time to exchange ideas on current topics that affect us all. Everyone has the chance to actively shape things.
A voice from the team:
"I really appreciate the fact that we regularly take breaks from our daily business and create space to be creative and find new perspectives. Especially the exchange within the team and the joint workshops are valuable for me and lead us forward – as a company and as a team!"
– Viviane Kögler
Freedom and individual work arrangements – everyone decides for themselves when and where they can unfold their best potential.

Whether in the centre of Munich, at the customer's site or from home. Here, everyone works when and where they are most productive. The decisive factors here are independent responsibility and self-care.
Working and taking a holiday – the perfect combination? We think so too! Our employees can work remotely for up to four weeks per year.
We take care of ourselves and our environment.  
We support every employee in making their dream bike their company bike.
Exercise anytime and anywhere – no problem!
Yoga, challenges or internal workshops – we share our knowledge and also internally we take advantage of various measures of CHM.
A voice from the team:
"We work as a team and need and appreciate the cooperation. Nevertheless, like everyone in our company, I am mostly free to decide how I want to organize my day! For example, I start early because that's when I'm most productive. In the evenings, on the other hand, I get creative – that's when I get into a flow and let my layout projects run free. I really like to use this flexibility – also to enjoy some beautiful sunshine hours during the day."
– Janna Langer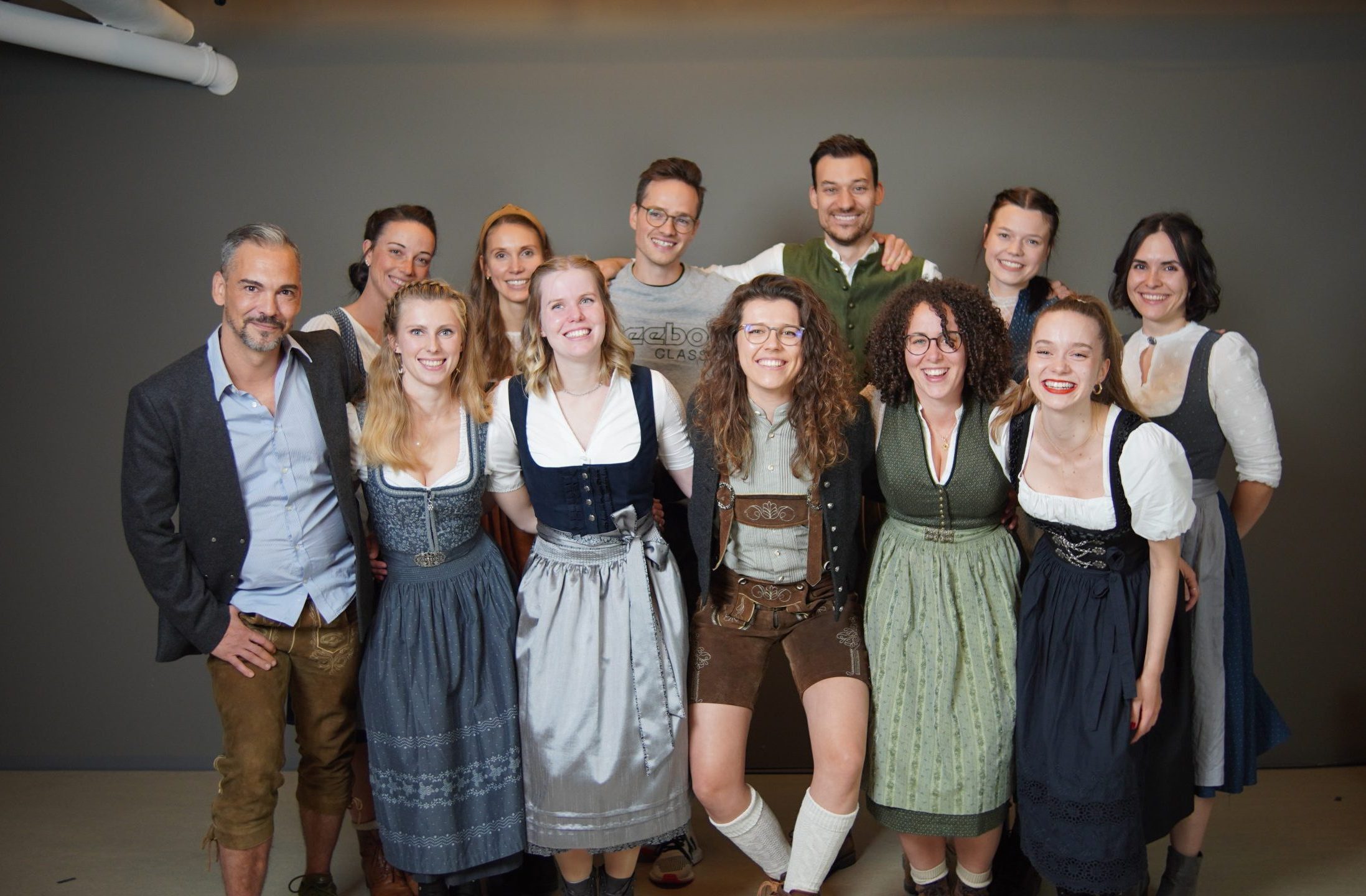 We understand and appreciate each other.
Our movement24 regulars' get-together takes place once a month. Here we celebrate ourselves as a team and spend time together. We also get together for our regular team events. No matter whether it's a summer party, games evenings, Teamwiesn or Christmas party.
A voice from the team:
"As a mountain athlete, I know that trust is elementary in life. Everyone makes mistakes, overlooks something or doesn't think through a problem from all sides – on the mountain or in the hectic everyday life of the office. If you can trust the people around you, you have something like a second safety net. A rope that ensures that a project succeeds better, no matter whether it's a mountaintop or a health day. My colleagues at movement24 give me exactly this security, at work but also sometimes in our free time on joint mountain tours."
– Max Schneider
PEOPLE AT MOVEMENT24
All of our employees work actively on projects for our customers, as our motto is close to all of our hearts: Moving people from knowing to doing!
WORKING AT MOVEMENT24
Achieve more together - Get to know our internal teams:
Projectmanagement
With focus on our clients, we manage our projects, create solutions and complete the projects successfully.
Productmanagement
Through proactive orientation and creative exchange, both internally and with our clients, we develop contemporary and innovative services and products.
Marketing & Sales
We win customers and turn them into real advocates through the enthusiasm for us and our services.
Management
Leading, creating and representing movement24 successfully.
Finance
Our mission is to create an efficient, modern and clear workflow for all parties involved. With this, we as Team Finance want to support, promote and guide movement24 in all financial topics.
People & Organisation
We create a positive working atmosphere in which every employee can unfold their full potential.
CREATE. ACT. TRUST.
Business Development
With a view to the big picture, we recognise relevant developments in the CHM market, translate them into strategic conclusions and thus navigate the future-oriented direction of movement24.
Inhouse Agency
We provide creative support and implement the ideas and contents of the team and the clients in the design and deliver high standardised quality media for communication.